Fantasy Football Part 3: The Conclusion and an Unbelievable Finish!
---
Acceptance: The Bowl Game:
The Bowl game is the Seattle Dutch Babies (7-7 season, 2-0 postseason) vs. Team Morales. (8-6 season, 2-0 postseason)
The history of wildcard teams in NFL History is fascinating. Eight have won the Super Bowl.
Remember when I was discussing the actual life playoff race at the beginning of the post? How the Seattle Seahawks were hoping to scrape into the playoffs despite having a final record of 9-8? This Bowl Game is a perfect example of why the NFL and fantasy football playoffs are unique. Teams with an even or barely winning record can make it into the playoffs and win it all. It's not likely, but as any sports fan can tell you, every playoff team's record becomes 0-0 once they get in. It's win or go home. Lose, and your season is over. Only one team wins it all.
It was a close matchup; the odds were either team could win. Based on how hot his team had bin in the lead-up to the bowl game, I thought that the Dutch Babies would win, with decisive victories in the two previous games. Rounds.
This would be a game decided on Monday Night Football in a marquee matchup between top teams who have clinched playoff spots for the 2022 NFL Season, The Buffalo Bills and The Cincinnati Bengals. The projection before Monday in the Fantasy Bowl game is that the Seattle Dutch Babies are a likely winner based on who has yet to play and the current score. The Bowl Game score after that Sunday:
Seattle Dutch Babies 103.4 to Team Morales 121.96.
Against all odds…
Part of Fantasy Football and the NFL is that players get injured. American Football is a physical game. Players often get injured and sometimes, as a result, have to leave the game, be taken out, and miss the Season to recover. The worst-case scenario is when a player is hurt so severely that they must be taken off the field and taken to the hospital immediately.
This was the case in the game between The Buffalo Bills and Cincinnati Bengals on Monday Night Football which took place on January 2nd, 2023.
On a routine tackle, defensive player Damar Hamlin collapsed on the field after what looked to be a normal tackle play. I don't feel it's right to show a video of that happening here. While initially getting to his feet, he lost consciousness and fell to the turf, where he got immediate medical attention. The game stopped, and everyone waited for a sign he was okay. He had to be taken to the local hospital and was in critical condition.
"Buffalo Bills defensive back Damar Hamlin may have suffered a "remarkably rare" condition when he collapsed on the field during Monday night's game against the Cincinnati Bengals, CBS News medical contributor Dr. David Agus told "CBS Mornings."

The Bills said Hamlin suffered cardiac arrest following a hit in the game. Video shows that after the hit, he stood up, took a few steps and fell to the ground.

While it's not yet clear what caused Hamlin's heart to suddenly stop beating, Agus believes he sustained blunt force trauma to his chest "in the exact right spot, at the exact right moment during his heartbeat," which caused his heart to have an arrhythmia — "not beat effectively to push blood to the brain."

Agus suspects Hamlin's heart was in ventricular fibrillation.

"What we know with commotio cordis, which is this condition, is that every minute you delay shocking them, resuscitating them, what happens is there's an increase of 10% in mortality," Agus said. "They started CPR right away, which is great. My hope is they were able to restore the heart rate soon enough to be able to get blood flow to the brain so there's no damage there."

Only about 30 of these cases happen in the United States each year, predominantly in children, according to Agus. "

From cbsnew.com source
The game stopped when Damar Hamlin collapsed to the turf, with players on both teams kneeling and praying for his safety and life. This kind of injury never happens at a football game.
For a couple days, the score of the Fantasy Bowl game was Seattle Dutch Babies 103.4 to Team Morales 121.96.
Eventually, the NFL and the Players Association decided to suspend the game. For fantasy teams, the score would be frozen from where that game stopped. The season was over. Rightfully so, as the player's health, Damar Hamlin was more important. The game would only be rescheduled if needed because of playoff implications. This turned out to not be necessary.
The final result:
A week later: Damar Hamlin update: Bills safety released from Cincinnati hospital, returns to Buffalo for 'next stage of his recovery.'
In the end, it's random.
All my research, the time I spent reading fantasy football articles, the time wondering if this was the right player to start or not… All for a 6th place finish. 😒
If I participate again later this year for the 2023 Fantasy Football season, I am auto-drafting my entire team.
🤷‍♂️
What's the point of all this?
I thought that winning this would make me happy. Supposedly the prize for winning is like a couple ounces of weed. I don't smoke anymore, barely consume, and have too much weed in my stash. If I did win, I would give this to my league mates. I doubt I'm getting anything now that I finished 6th.
You know what? I deserve this. I'm going to choose to accept that this is a sign that I needed an ego check. Like: "Oh, I would have been so magnanimous and seen as sooooo cool and giving because I gave away the prize."
I was depressed a couple weeks ago, for a couple days when I lost in the first round; now? I'm back at neutral. I guess I have gone through the 5 steps of grief with this.
Yeah, that scans.
The point of it all was to have fun. The point was the doing. The relationships I grew along the way. I the social skills and behaviors about myself I learned. A new universe to explore. A fresh way to watch NFL games. A fresh way to connect with people in real life and online. A way to socialize without worrying about catching covid or getting sick.
That… That is the point of all this.
The Fantasy playoffs are over. Back to Real Football. The real-life playoffs start on the 14th. Let's check back in on the Packers-Lions.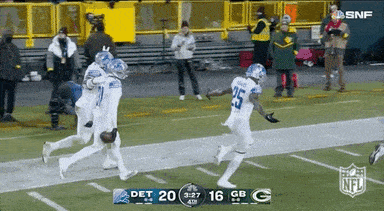 Final score: Lions 20, Packers 16! WOO!
8:27 PM: THE SEAHAWKS MADE IT INTO THE PLAYOFFS, Thanks to a win by the Detroit Lions! Onto the Super Wildcard Round versus the San Francisco 49ers!
I'll take that.
Have you participated in a Fantasy Football league before? How did your season go? Did you win? Let me know below in the comments. Did you enjoy this series? Tell me that too.
Feel free to subscribe by email in the bar below to not miss a post!
Copyright Reilly Anderson, 2020-2023.