This is part 3 of a series about the Mariners Postseason exploits.
Part 2:
Part 1:
The Mariners 2022 ALDS… Part 3
Song of the post: Roundabout by Yes
Game 2:
Thursday had much different energy going into work on the eve of Game 2 compared to Tuesday morning. In game One, The Mariners played very well and held the lead to 2 outs in the 9th inning. One more out, and it would have been different. But it wasn't different. We lost on a walk-off home run. That is the most devastating way to lose in Baseball… Because the game ends right there after your team has been ahead for hours in the game, and there is nothing you can do. And it happened in the postseason, where every game counts. Our team was now playing from behind in the series. It is a best of 5 round, after all.
Some baseball games are fast, some are slow. This game was a pitchers duel, and the runs are scored fast.
This was a pitching gem by Mariners Pitcher Luis Castillo; two home runs ruined that by Astros hitters Kyle Tucker and Jordan Alvarez. The Mariners kept it interesting but couldn't overcome the Astros. They had a couple of opportunities with runners on base but were stopped by the Astros bullpen pitchers. We couldn't keep up or come back.
Astros 4, Mariners 2.
Which brings us to today, October 15th. Game 3 is at 1:07pm in Seattle at Tmobile Park. I am going there to see it!
With us being down two games. It is now time for a changeup. (A baseball reference for a type of pitch that is slower with different movements to fool the batter into swinging for a strike or to make an out). It's time to retire the old Ichiro Jersey and buy a new one for the new generation of players. Since I will be going to the park for the game, I plan on purchasing a jersey of young star Julio Rodriguez at the ballpark team store. I could use a new Mariners ball cap too.
Out with the old, in with the new. (I'll be hanging the Ichiro jersey back in the closet.)
Superstition & a sacrifice to the Ms "God"
Before the game, on a whim, I decided to make a prayer and tribute to the mystery man who named the Mariners Roger Szmodis. When Major League Baseball awarded the newly established team in 1977, the team contacted Roger Szmodis to give him season tickets as a prize. He never contacted them back. The following PR director tried to find this person, but his one lead of a man living in Pennsylvania did not get him back either. So, for the sake of this post and Mariner's history… Szmodis is the God of the Mariners. Because nobody knows if the person exists.
I'm not a superstitious person, or a religious person. I've never done something that follows.
Baseball is a superstitious sport. Batters and pitchers are famous for having their quirks to prepare themselves to be ready to hit or deliver a pitch… Here is an example:
This is not an endorsement of arson
I decided to write a prayer to Roger Szmodis, and burn it at a Mariners "holy site"… The site being a place where one stadium was burned down and another stadium was built on -Sicks Stadium- Now a Lowe's store. My intial plan was to do the tribute, then drive back and park near the Columbia City light rail station and catch the light rail to the game. There is a stop about 2 blocks from the stadiums downtown, so it makes sense to ride it there. There is no free parking downtown. A round trip is about $5. But first, the tribute.
The historic site of Sick's Stadium or Lowe's home improvement is a short drive from where I live. Sick's Stadium used to be the home of the Seattle Pilots before they were relocated to. Milwaukee and renamed to The Brewers.
The only people who could see the mischief I was up to was the Amigos hanging out on the edge of the property. The immigrant men who sit by home improvement stores hoping that someone hires them for work.
I parked in the farthest spot I could and lit the paper with a lighter from the drivers side of my car. It took a little effort. I had to ignite it a few times, but I got it done without incident.
I decided to pay for parking and drove to T-mobile Park. I figured: what the hell? I was giggling about tithe absurdity of what I just did to help the Mariners win.
Take me out to the ballpark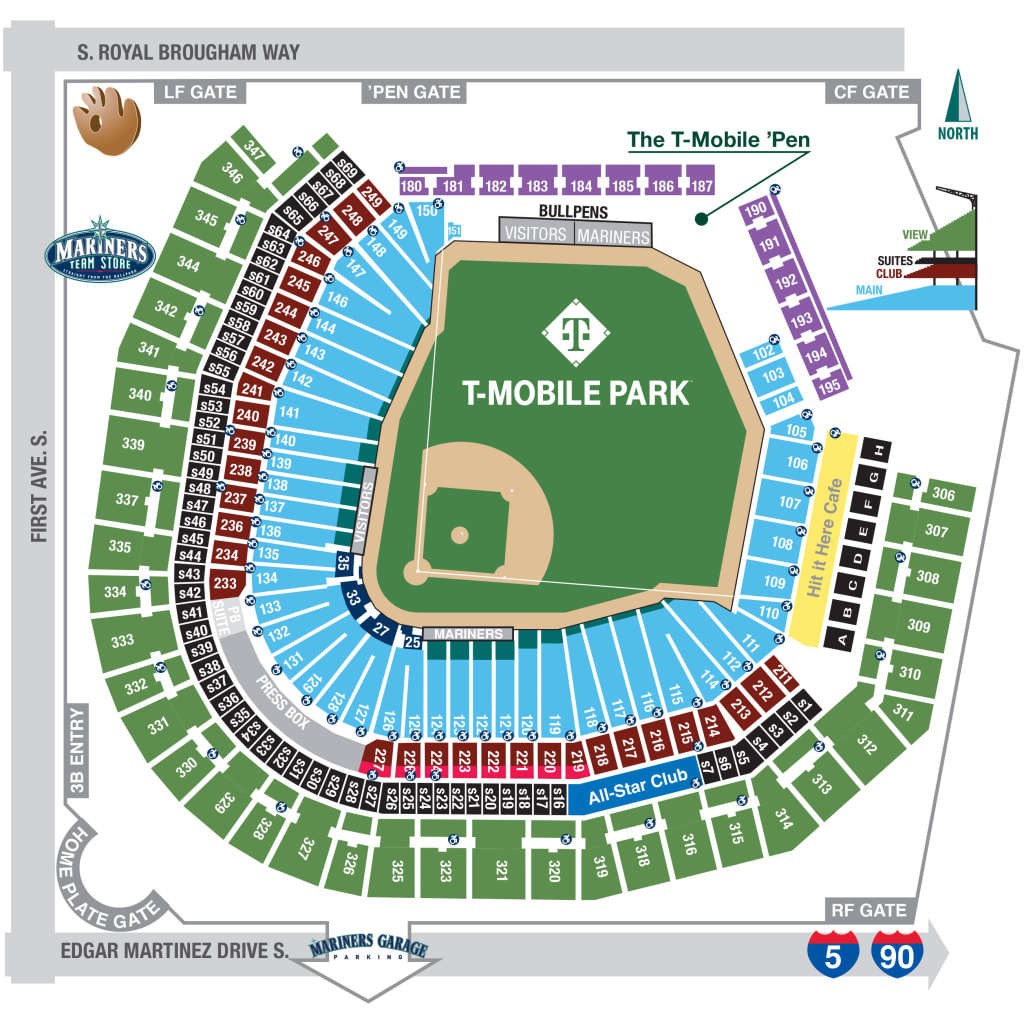 It was a warm, humid October day. The air smelled of burnt wood from the forest fire smog. To be safe I decided to double mask. Even though Thursday was two weeks after I got the new Covid booster and flu shot.
(Be sure to get the newest Coronavirus vaccine and boosters, people! The pandemic isn't over yet!) LONG COVID SUCKS!
Two hours before the game, it was packed. The energy is electric. As I walked around the street level in 'The Pen' area of the stadium, every so often, a "Let's go Mariners" chant would erupt with cheers and clapping in time. People were shoulder to shoulder and moved like migrating birds as some stood in line at concessions, others getting their bearing, and some taking it all in.
Line buddy and line bro code.
Had a short conversation with a guy in line while waiting to buy a jersey and hat at the store located behind 'The Pen' section of the stadium.
The line guy was about my age and build and a bit inebriated. Said his uncle wanted him to get him a beer. He decided to get something for himself on the way– a teal Julio Rodriguez jersey.
I said: "Hey, it's the post season." He couldn't hear me over the excited volume of the crowd. I repeated myself. He smiled and we high fived.
After a going through the store line twice, once to find what I wanted, and once to pay, I bought a white Julio Rodriguez jersey and extra large dark blue cap. $200. Pricey, but worth it. It's the first jersey I've bought. The second Ms cap. (not sure what happened to the previous hat).
Game 3!
The pregame festivities began with former pitcher and Mariners royalty Felix Hernandez walked in from the bullpen to throw the ceremonial first pitch. The sold out stadium became LOUD. Louder than I have ever heard it at a Mariners game before. I or anyone else in the stadium didn't know it then, but it would become a typical Felix style start. A game for the ages.
The last Mariners game I went to, was in 2014 on the last day of the season when The M's were one game out of the Wildcard race. My uncle invited me to go with my cousin and my uncles brother. Win 1 game, and hope that division rival Oakland loses, and we were going to the post season. Starting was our best Pitcher Felix Hernandez. It was a close game, and Felix was brilliant through 5 innings… But it wasn't enough. I learned on an overhead tv while buying food that our season was over and that Oakland had won. It would be the closest that Felix Hernandez would ever come to the playoffs in his career, all played as a Mariner.
On Saturday pregame, Felix was hyped, the crowd was hyped, and the Mariners players were hyped.
I bought a chicken tenders meal with garlic fries that had way too much garlic. I like garlic, but this had like half a cup of warm garlic for a extra large serving of fries. Also pricey. I'm glad I got the refill drink.
This was a classic pitching duel. An all time classic that had you on the edge of your seat and chanting "K" for strikeout pretty much every inning. For the entire game and into the night, the stadium was covered by a smokey haze due to forest fire smoke blowing into town. The sky later in the game was a hazy red.
6+ hours later…
After getting up to cheer many times for strikeouts and long fly balls, after a gem by Center Fielder Julio Rodriguez to make a diving catch out, we got to the top of the 18th inning. Everyone was exhausted. I heard people ask: "Who wants this more?" "Don't they want to win?" I was ready to stay as long as it took. On the 15 inning, I opened my phone to search: What is the longest MLB playoff game? It was 18 innings, and had happened twice before, both involving the Astros. Three times during the game, before the 18th, the Mariners managed to get runners on base and into scoring position, but had failed to drive them in to score. The Astro Pitchers were matching the Mariners Pitchers every step of the way. At the 18th, the Astros had used 8 pitchers, and the Mariners were on their 9th pitcher with one remaining. Something had to give.
In the 18th inning, Shortstop Jeremy Pena hit a blast to centerfield. A home run. The Astros now led 1-0. Not impossible to overcome by the Mariners, but after this marathon and how the game was to this point… The tension was palpable and all us Mariners fans were exhausted.
We would have one more chance to score. Their pitcher, usual starter Luis Garcia had already thrown about 100 pitches and 4 innings by this point, so he was feeling the fatigue and vulnerable. All it took was 1 run however we could. Kelenic, Crawford, and Rodriguez were to bat. We have to score now or the season is over. And…
🙃😑 We lost.
The game was 6 hours and 22 minutes. 18 innings long. It was the third longest playoff game of all time. 17 and 2/3rds set a new record for the most scoreless innings by both teams. Forty-two combined strikeouts by both teams. That meant 42/54 of the total outs were strikeouts. We fans were up cheering for each one… One for the Mariners hitters, and 1 for the pitchers.
Game over. Playoffs over. Season over. The home playoff losing streak continues. What a game!
Post game thoughts…
All in all, my best efforts, my cheering, towel waving, clapping, tribute, and superstition didn't work out. That is baseball. That's life. I did my part and went above and beyond as a fan. By far the longest baseball game I have ever been to. A disappointing end to a marathon. I'm glad I bought the tickets, bought the jersey, hat, and food. I'm happy for the experience. My throat is sore from cheering for roughly 6.22 okay, like 5 hours considering breaks, and I can barely talk.
For the first time in a long time, next season for The Seattle Mariners looks bright. Most of our players are young or under contract, and not too many players will become free agents. According to the sports media I follow (mlbtraderumors.com & ESPN), the team has budget space to spend more.
Onto 2023!
---